Makeover Monday is back today with Liz, another talented blogger sharing her inviting living room with us!
Hello everyone!! I am Liz from
Decorating the Ville
. I am so excited to be here at A Lived in Home, thank you Megan for having me! My family moved into this home a little more than a year ago. We have moved often for my husband's job, but this is the first older home that we have ever tackled. This house is our forever home (Lord willin' and the creek don't rise!), and we can finally feel comfortable doing things to this home that we couldn't do with the others.
Today I would love to share my Living Room transformation with you. When we looked at the home for the first time this is what the Living Room looked like:
Here is it empty:
We knew it would be a challenge to get rid of this natural oak trim in the entire house. We are still not finished painting it! The 8 foot ceilings also presented the challenge of making the rooms lighter, airier and more modern without having the ceiling height.
Each house we buy, we also have the challenge of buying around the belle of the ball - the elephant in the room, literally - Big Bertha the Grand Piano.
Here is the room during our furniture arrangement phase. We had to find a place for the piano to fit, as well as keep the flow of traffic open to the dining room. All this, while trying to keep the furniture in a nice cozy conversational grouping.
And here it is in it's current state:
We painted the walls Ashes by Behr, and all of the trim and the ceiling is painted Pure White by Sherwin Williams. We added a piece of trim about 1 1/2 inches under the existing crown molding and painted it all white to trick the eye a bit in to seeing a much thicker molding.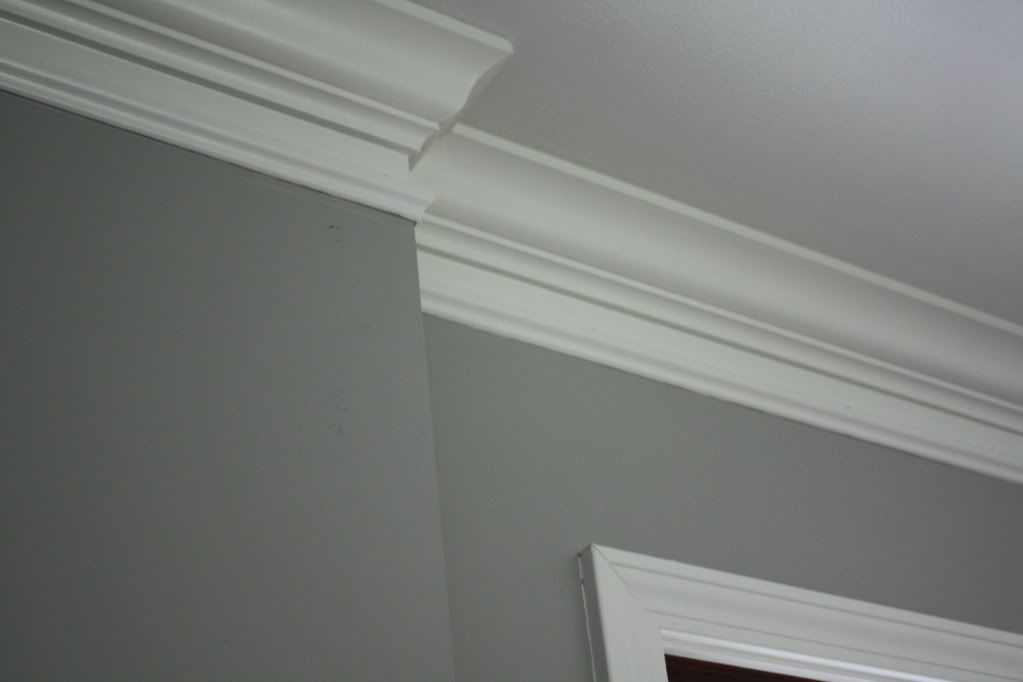 We also painted horizontal stripes onto the large sofa wall to give the room a bit more dimension. The subtle stripes are in the same color of paint, but with a high gloss sheen against the eggshell wall color.
The black and white pictures over the sofa have a special meaning to us. They are photographs of our parents and grandparents - a wedding photo if they had one.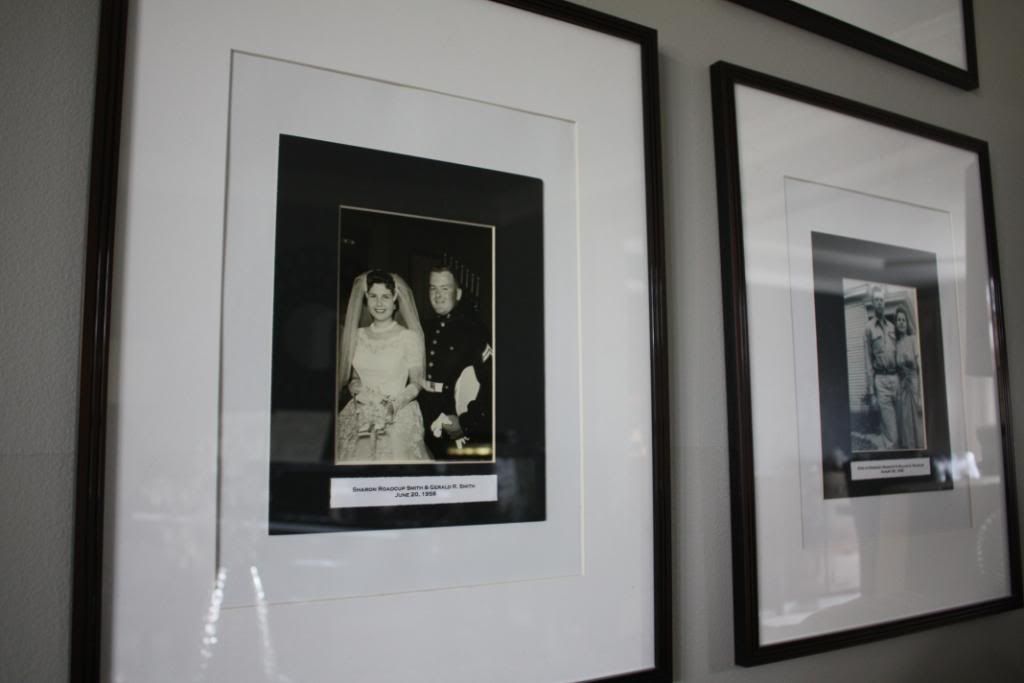 And that is our Living Room! Next project, the dining room! Come on over and check out our progress, and the other finished parts of the house at
Decorating the Ville
!