Happy Monday friends! We had a great, football filled weekend around our home. Now, it's time to kick off this busy week ahead with Kristen from
K.F.D. Designs
. She is a very talented artist who loves interior design and has a stylish home to prove it. Her artwork spices up her spaces too.
Hi everyone! I'm Kristen, and I blog over at
Kristen F. Davis Designs
. I'm a decorative painter from Atlanta, Georgia, that really, REALLY loves interior design. I thought I'd share with you guys a makeover that I recently completed in my own home. I redecorated my bedroom, and it went from dark and wild colors, to more muted and calm, with only a little pop of color. Here is my "before":
I had created this "Moroccan" stencil for a client, but I loved it, and decided to use it in my own home. I painted the "Accent" wall behind my bed with the stencil, using a tomato-red paint on a white background. I painted the outer walls in a dark gray - almost black. My nightstands were a garage sale find, that I painted turquoise and wallpapered the insides with grasscloth. I also salvaged the pulls from another piece of furniture, and put them on the nightstands. I accented my white bedspread with spots of color in the pillows, throws, and the bench seat at the end of the bed. I always like to keep more "permanent" investment-type pieces neutral, so that I can play around with color in the more inexpensive pieces - IE, I always keep a white bedspread and sheets around!
I loved my bright bedroom, but being a person who can't keep things the same for very long, I redecorated over the past few months, and this is what my bedroom looks like now: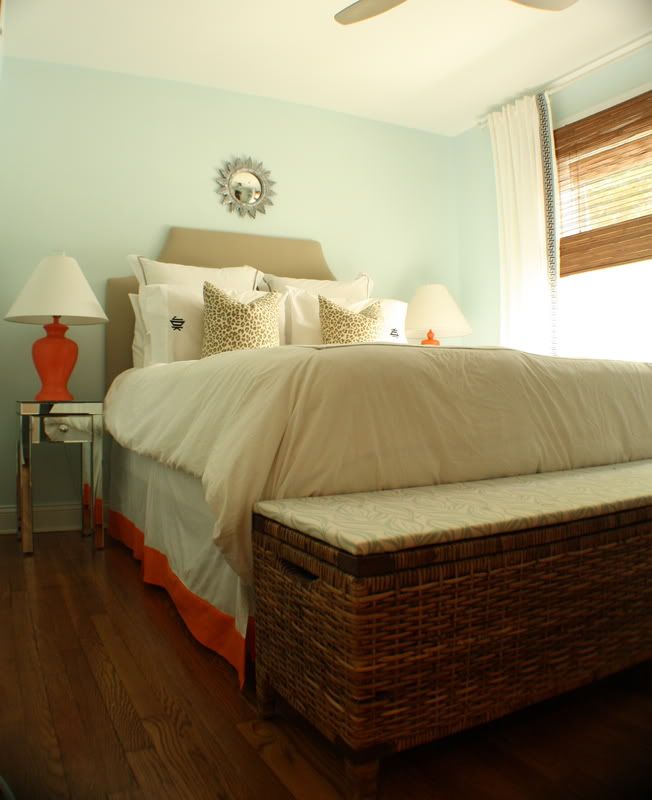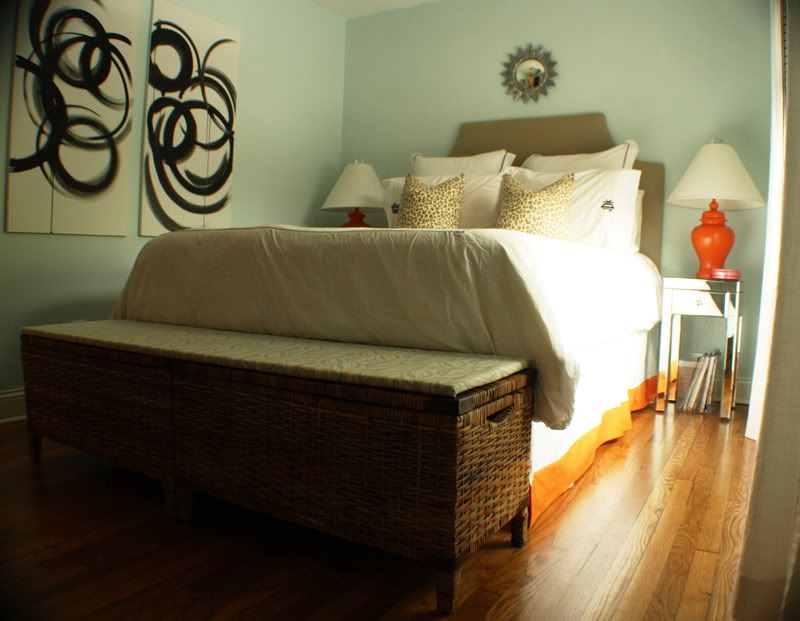 Light and bright! I bought the two lamps for only $6 at a thrift store, and painted them a bright, fun orange. That was my fun spot of color, that I recently matched when I added fabric onto the bottom of my bedskirt to lengthen it. I also painted the walls a light, watery aqua blue, and did graphic black and white paintings for the wall. I love the contrast of them with the more feminine, light, bedroom. I made the headboard behind the bed, and brought in mirrored side tables from Target.
I hope you guys enjoyed my makeover! Come visit me at KFD Designs!
http://kfddesigns.blogspot.com/